Swim Spa Benefits: Exercise and Therapy
A Michael Phelps Signature Swim Spa by Master Spas is a perfect solution for those who need the benefits provided by therapy pools, or wish to pursue an active aquatic lifestyle, yet do not have the an Olympic-sized backyard pool, and you won't get dizzy from turning every few strokes during your swimming work out because the Wave Propulsion Technology creates a truly endless current!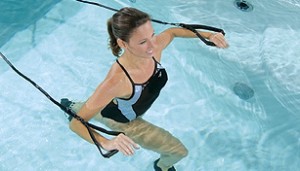 Imagine being able to step out your back door and having a full state of the art gym and swim facility available to you at your convenience every day. Consider the health benefits of relaxation and lowered blood pressure you would receive from a daily, low impact workout and massage jet aqua therapy built into the same Swim Spa that allows you to swim, row, bike, run and use pilates resistance in your own clean, custom temperature body of water.
Envision your sweet escape from the daily grind – with every quiet, muscle building stroke you take through the water, moving at your own speed to your own music. You push the demands and pressures of daily life out of your tight muscles with every thrust your curved palm takes against the water flow, and allow vital renewing energy to enter into your stretching muscles, increasing blood flow to heal past injuries and lowering cardiovascular stress. This future health can be yours.

IS THERE A DIFFERENCE BETWEEN MICHAEL PHELPS WAVE PROPULSION AND JETTED H2X SWIM SPAS?
The Wave Propulsion™ Technology in a Michael Phelps Swim Spa by Master Spas features a unique propeller design that provides a wider, deeper, and smoother current — giving you a swimming experience that is far superior to any other home swim spa and preferred by intermediate to expert level swimmers. The resistance is fully adjustable with the Swim Number System™ allowing swimmers of varying ability to customize the flow and gauge their performance. Imagine swimming any day of the year, right in your own backyard, because the convenient digital controls allow you to set the water temperature where it's most comfortable for you.
The Michael Phelps Signature Swim Spas by Master Spas were designed in collaboration with Michael himself and his coach Bob Bowman to provide a real training pool environment. No other swim spa on the market can generate such an excellent swim current or provide the design amenities you expect from Master Spas.

H2x Swim Jet Technology provides extraordinary therapy features in an accessible format for those seeking low impact aquatic movement and aerobics, aqua therapy and for swimmers of novice to intermediate levels. The Exerswim Propulsion System gives you an amazing amount of flexibility in variety of unit sizes, ranging from the H2x 12 which is not that much bigger than some therapy-only spas – to the H2x 19 with a separate built in hot tub. With the H2x as your personal training center, your swim spa is the place everyone will want to be.

Let Swim Fitness show you how to Get in the Flow! Call today for a personal presentation and test swim in our showroom! Toll Free:[855-794-6348]
Swimming is one of the most effective aerobic activities available. Not only is a swim workout program low-impact, so it is easy on your joints, it is shown to dramatically improve longevity over running or even walking. A University of South Carolina study led by Dr. Steven Blair evaluated comprehensive physical exams and behavioral surveys from more than 40,000 men, age 20-90 years, enrolled in the Aerobics Center Longitudinal Study (ACLS) over the last 32 years. "We also observed lower mortality in swimmers than in runners," Blair explains. The actual results were presented at the 2008 World Aquatic Health™ Conference in Colorado Springs, Colorado, and have been published in the "International Journal of Aquatic research and Education".