Shopping for hot tubs is like looking at the menu at T.G.I. Fridays — there are so many options that you're sure you're going to pick the wrong one.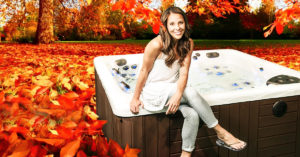 The good news is, you can focus on six simple questions that, once answered, will narrow down that T.G.I. Friday's menu to a prix fixe brunch list at that hoity toity French joint with the white tablecloths that you never go to because you don't like the maitre' d's mustache.
What size?
Ignore Samantha Jones. Bigger is not always better. You should have just enough tub for the amount of people who are most likely to use it most of the time. If it's just you and your squeeze, don't get an eight-person tub for those times that your sister and her kids come over once every 18 months.
What seat type?
Lounge? Bench? Ergonomic? Head rests? With the exception of water, seats are probably a spa's most important feature. Research the many different kinds of seats and narrow it down.
What for?
What's the main purpose of the hot tub? Hydrotherapy? Relaxation? Entertainment? Sports injury recovery? Pain management? Maybe you're a rapper who wants to have the coolest deck on "Cribs." The point it, the use will play a large part in determining the tub.
What's your style?  
Are you looking for a simple, modest Amish hot tub, a neighbor-infuriating monstrosity with flashing lights and sound system, or something in between?
Body type
LeBron James and David Spade need different spas, although I'm sure we can all agree we'd like to see them in a hot tub together. The size and length of your body, arms, legs, torso, etc. will make some of the choices for you.
What's your budget?
Finally, there there is the never-escapable issue of money. You budget has a lot to do with your options, so pick a range before you get your heart set on something you'd have to rob a jewelry store to afford. Typical ranges include: $3,000-$5,000, $6,000-$8,000, $8,000-$11,000 and $11,000-Thurston Howell III.