Hot Tub Cover Lifters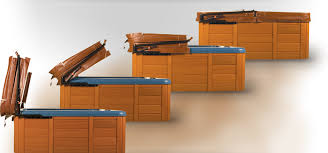 Hot tub cover lifters are available in manual and hydraulic assist models. These accessories are especially popular for one person entry. The cover is easily moved out of the way and stored snugly against the back of the spa without touching the ground or taking up needless space. After use, the cover is easily pivoted back into place, fitting snugly and securely.
Some of the larger sized hot tub models require 2 cover lifts. Please ask our sales staff to recommend the most effective and efficient cover lift options for your desired hot tub.
Below are numerous pictures of our various Hot Tub cover lifts:
Click on a model below to learn more: